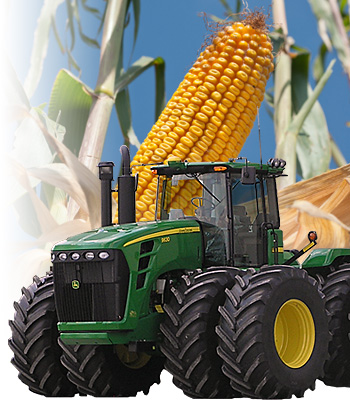 About Us John Durdan settled near Streator in early 1900's from Eastern Europe. With six children, John decided to spread the family's land base and in 1960 he bought 160 acres, near Leonore, IL. His son, Daniel settled on the location and started his family. Daniel and Coletta had three children: Douglas, Denise and Dan.

Farm work was primarily done by horses, until 1945, which left little opportunity to expand production. Throughout the 1970's and 1980's the farm adapted to new technology and changes in the industry. Daniel and his son Douglas farmed as much as 1600 acres together from 1982 to 1997. During this time period, Doug along with his wife Gerianne and children Justin and Nicole, operated a trucking company. In 1995, they opened Durdan Grain Company, which provided drying, storage and transportation for over 90 farmers in the local area. Over the next 10 years the land changed hands, technology advanced and opportunity was born.

The commercial side of the elevator was closed in 2004 in order to turn the focus on the production side of farming. With Justin Durdan's introduction into the business and the size of the family farm changing rapidly, the operation transformed into becoming a complete self-sufficient organization. Durdan Farms started independently transporting, drying and storage of all grain, applying all fertilizers and chemicals, and by using volume and muti-unit discounts from vendors, became very efficient and lowered the cost of production.

The operation now has grown to over 7,000 acres of production. The key decision-making is done by Doug and Geri Durdan and Justin and Rachel Durdan. Through personal growth and education in business development, our mission is to continue to set the pace for being elite producers in agriculture.

Doug focuses primarily on grain marketing, input purchasing and expansion opportunities. He currently lives on the home farm near Streator with his wife, Gerianne. Geri works in the office on a daily basis, helping to run the business and also runs the elevator in the fall. They enjoy spending time with their grandchildren, traveling to the southwest in early spring, watching the Cubs and golfing.

Doug and Geri's daughter Nicole is a pharmacist at OSF Hospital and is married to Andy Swenson. Andy is a firefighter for the city of Peoria. Together they have a son Aydan, and a brand new baby boy, Connor.

Justin oversees and delegates the role of day-to-day operations in accounting, human resources and logistics. With technology playing a big role on farms today, Justin is also responsible for bringing the latest in GPS and information management into the operation. Justin also serves on the Illinois Corn Growers Association Board of Directors. He currently resides in Utica with his wife Rachel and two children Ella and Ian. They enjoy their church, traveling and spending time with family and friends.